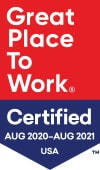 Seasons Living Certified as a Great Place to Work®
Lake Oswego, OR (October 2020) – Great Place to Work Institute has honored Seasons Living with certification as a Great Place to Work. The certification process considered more than 1,000 employee surveys from across Seasons Living communities. Great Place to Work, an independent research and consulting firm, evaluated more than 60 elements of team members' experience on the job. These included employee pride in the organization's community impact, belief that their work makes a difference, and feeling their work has special meaning. Rankings are based on employees' experiences, no matter who they are or what they do.
"Seasons Living has a culture all its own, and we're proud of receiving this recognition for being a great place to work. Our rich history of diversity, hard work, and economic vitality help make us who we are," exclaims Dan Williams, Principal | COO.
Seasons Living is built upon a foundation of core values that are ingrained in everything we do. We use these Culture Keys as touchstones to define and clarify our expertise – Service, Dream, Empower, Expertise, and Accountability. Culture Keys helps reinforce the best way forward for the company, and our Great Place to Work certification continues to strengthen that determination.
"We applaud Seasons Living for seeking certification and releasing its employees' feedback," said Dr. Jacquelyn Kung, of Great Place to Work's senior care affiliate Activated Insights. "These ratings measure its capacity to earn its own employees' trust and create a great workplace for high performance."
For more information about Seasons Living, please call 503.675.3925 | seasonsliving.com
Seasons Living
It is our mission to make a positive influence on every resident, family members, and colleagues we serve. Founded in 1998, Seasons Living specializes in the senior care industry, operating eleven communities in seven states. The principle that guide our communities are unwavering: our most significant asset is the dedication to serving our residents.